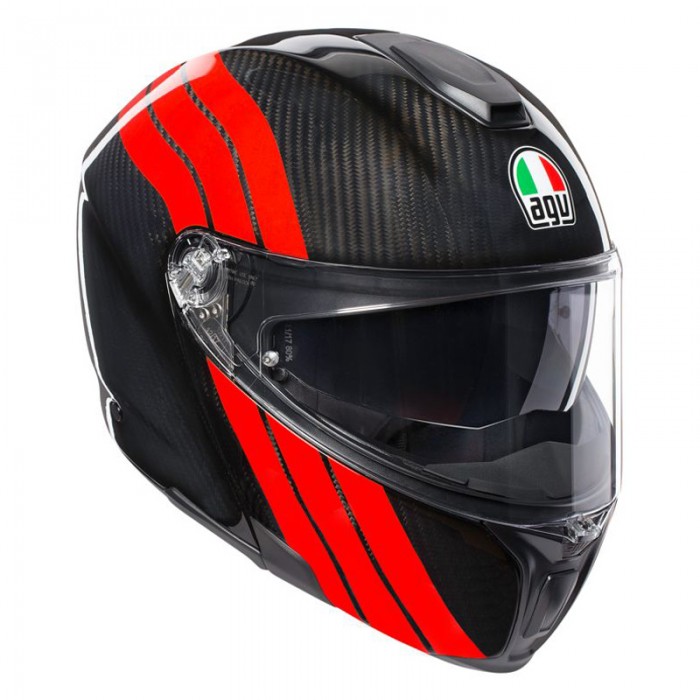 Modular helmet wearers, rejoice! The AGV Sportmodular Carbon Helmet is here and ready to lay down those miles with you. Built with the AGV Pista GP R in mind, the Sportmodular has the same protection and lightweight construction. The helmet liner is two-sided and reversible, so you can pick the best level of comfort depending on the weather. The GT3 face shield is prepared for the Pinlock 120 insert lens, which is race-level anti-fogging at your fingertips. Metal hardware at the chin bar closes the bar securely. Swap out the face shield effortlessly with no tool required.
Features:
100% carbon fiber shell

3 shell sizes (XS-SM, MD-LG, XL-3XL)

5-density EPS in 4 sizes

100% carbon fiber chin bar engineered to guarantee maximum lightweight and balance even in the open configuration

Shell shape designed to minimize the risk of impact energies being channelled to the collar bone

Metal chin guard opening system designed to prevent accidental openings

IVS (Integrated Ventilation System) with a large front vent, a chin guard vent and a rear extractor hollowed in the shell which direct air to the rider's head without interference with the internal sun shield

Internal chin channels distribute the airflow evenly through the entire shield surface

Adjustable integrated spoiler reduces turbulence and maximizes stability

Pressure-free interior fit

Removable nose guard and wind protector

Reversible crown pad features a double face use that allows the rider to select the preferred feel and climate: warmer side with Shalimar fabric for a soft and gentle touch and a cooler side with Ritmo fabric

Neckroll made from Shalimar and Nabuk fabric with water resistant treatment prevents water from being channelled inside the helmet

Cheek pads made from Ritmo fabric with Sanitized (antibacterial protection), 2Dry (moisture wicking) and Microsense (premium skin comfort and wearing fluidity) treatments

Eyeglasses friendly

Face shield prepared for 100% Max Vision Pinlock (120) anti-fog technology designed for maximum vertical view (85°) and unmatched horizontal view (190°)

Pinlock insert lens included

GT3 face shield is anti-scratch and is in 2 sizes to optimize the correct fit between shield and shell in any size and to reduce air drafts and noise (GT3-1 for 2XS-LG, GT3-2 for XL-3XL)

Integrated anti-scratch inner sun shield is removable without using tools and uses 2 sizes (IV7-1 for 2XS-LG, IV7-2 for XL-3XL)

Visor Lock System (VLS) reduces the risk of accidental openings

Metal face shield mechanism designed to minimize surface area, therefore supporting peripheral view and impact performance

Rapid face shield release system requires no tools and allows it to be removed and replaced in seconds

Titanium Double D retention system (43% lighter than standard steel DD)

Internal sun shield in light smoke
Clothing Material Group
Main Material
Carbon-Fibre
Colour Group
Main Colour
Black
Helmet Size Guide
Motorcycle Helmet sizing - Your motorcycle helmet is a vital piece of equipment. This is not only because it is required by law, but more importantly wearing a helmet can help to protect you from serious brain injuries. It is essential to ensure that the helmet you are wearing fits correctly. If it is too small then it will obviously be uncomfortable, but if it is too big then it won't provide the proper protection and could come off in the event of an accident. To find the right helmet size, measure all the way round your head at the widest point. Keep the tape measure above your ears and make sure that the tape measure is not too tight, nor too loose. Take your measurement in centimetres (cm).
| Helmet Size | Circumference (cm) |
| --- | --- |
| 2XS | 51-52 |
| XS | 53-54 |
| S | 55-56 |
| MS / M | 57-58 |
| ML | 58-69 |
| L | 59-60 |
| XL | 61-62 |
| XXL | 63-64 |
| 3XL | 65-66 |
Delivery Information:
All online orders are processed once the full payment is processed and confirmed.
All online orders are shipped using Fastway Couriers or Pony Express throughout Ireland. Orders processed before 1:00pm leave the same day. Order processed after 1.00pm will leave the following day. Dispatch is only available Monday through Friday.
All orders where the billing address differs to the delivery address may take longer due to extra security checks. This is designed to protect our customers from fraud.
All prices on our website are quoted inclusive of VAT. A VAT breakdown will be shown upon checkout.
Upon checkout, you will have the option of having your order collected in store. A full card payment will be required online prior to collecting your goods in store. "Web Only" priced items cannot be collected in-store.
Shipping prices may vary depending on the products in your shopping cart at time of checkout. We do our best to offer competitive shipping rates. Below is a general breakdown of our shipping costs:
Cart total under €50*
€10 to Ireland and Northern Ireland
€20 to United Kingdom
Cart total over €50*
Free to Ireland and Northern Ireland
Free to United Kingdom
Shipping to Europe
€30 for total cart weight upto 3KG
€50 for total cart weight between 3KG & 7KG
Shipping to the Rest of the world
*These prices are for shopping cart totals of 3kg or less. Orders over 3kg are priced accordingly based on the overall shopping cart weight.
Returns Information:
Any products which were purchased via our online stores must be in their original packaging and original condition. Proof of purchase is also required and must be within 14 days of date of receipt. Any returns after 14 days may be subject to 15% restocking charge.
Any products purchased which qualified for Free Shipping and are returned under the 14 day cooling off period will be subject to a postage fee of €10 for Ireland & Northern Ireland or €20 for the United Kingdom. This fee will be deducted from your refund.
To return your item free of charge you will first need to obtain an RMA number. Once you receive an RMA number, you may use An Posts Return My Shopping service to return your purchase. All items which are end of line or special ordered are non-returnable or refundable unless they are damaged or defective on arrival. If your order is damaged or defective on arrival, please inform a member of our staff straight away by phoning 01-4566222. This policy does not affect the statutory rights afforded to consumers.

When it comes to purchasing a motorbike, securing the right financing can sometimes be a challenging task. At Bikeworld however, we not only provide you with the bike you've always dreamed of owning but we can also recommend a reputable financier who provides a fantastic service and has assisted many of our clients with the funding when they need it.
Flexi-Fi is a retail instalment payment plan facility, an easy alternative to paying with cash or credit card for your motorcycle, clothing & accessories. Whether it's a new motorcycle, helmet, jacket or accessories Flexi-Fi is there to make finance simple!
It's all about you – you're in total control. You select the goods; You select the amount; You have full access to your Flexi-Fi account via your very own self-serve portal. You can even pay out your purchase early without any additional fees or charges. Like we said, it's all about you!
Flexi-Fi like to know their customers so to apply, you complete a simple, quick and easy online application form on your mobile phone or mobile device. Apply from home, at the office or in-store – it's your choice.
There's an application fee of €35 when signing the contract and a monthly fee of €3.50 to run your account. These fees are included in your credit and payment schedules; itemised on your payment schedule so you know exactly how much you are paying. Providing you stick to your payment schedule, you know exactly how many payments you need to make and the total amount payable throughout your Flexi-Fi payment term.
Special Interest Rates apply depending on what you want to purchase and may vary by retailer so best to check in store for the best Flexi-Fi rate.
Flexi-Fi likes to keep in touch so will send you SMS messages and emails throughout your application and time with us. Having a mobile phone number and email address is required to enjoy the benefits of Flexi-Fi.
To apply for Flexi-Fi, all you need is a valid email address, your mobile phone number and meet the following minimum criteria:
Be at least 18 years of age
Be an Irish citizen or permanent resident of Ireland
Earn a minimum taxable income of €21,000 per year
Have a current credit/debit card and a Photo ID
Have a good credit history
Minimum order value of €80
During your Flexi-Fi assessment, additional documents such as a recent bank statement, utility bill or payslip may be requested to support your application. Once we have all we need, you'll receive a credit decision within minutes! It's that simple!
Finance is available, 0% deposit needed, 6.99% Interest Rate over 2 or 3 years. For further information, please contact a member of our sales department or apply below. Terms & Conditions apply.
AGV Sportmodular Carbon Stripes Helmet