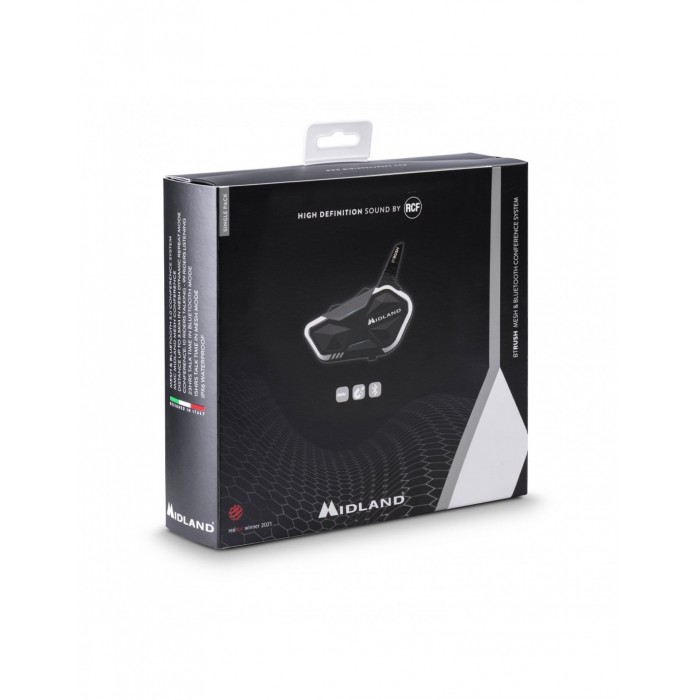 Description:
The new Midland BT Rush has dramatically changed the audio performance on a motorbike.
The BT Rush is the newborn of a new type of intercom based on the "Mesh Conference" technology, developed by Midland to offer group communication maximum performance in all the conditions of use.
The BT Rush has also an innovative sound performance, thanks to the partnership developed with the historic brand RCF, a manufacturer of professional audio systems appreciated all over the world, from Hi-Fi to Public Address to large concert audio systems.
The experience that both brands have poured into the top of the range BT Rush has allowed us to touch a quality standard that exceeds the expectations of every motorcyclist or scooterist who uses the intercom.
BT RUSH STRENGTHS
The "pro" features of the BT Rush are many:
The sophisticated design of the IPX6 waterproof certification

The convenient Magic Clock magnetic helmet mount

The long battery life as standard guarantees an autonomy of more than 23 hours in Bluetooth mode and 15 hours in mesh mode!
Other features worth mentioning are the extreme audio quality, the connections available to communicate with other devices, and full compatibility with TFT connectivity and control systems into the dashboards of many motorcycle models (BMW, Honda, Ducati, etc.).
Thanks to the Stereo Background, the BT Rush allows you to keep GPS or music in the background of intercom communication. The BT Rush also allows you to activate the connection with two phones and a different brand's intercom.
THE AUDIO SYSTEM DEVELOPED BY RCF
Thanks to RCF's renowned know-how, the listening experience and sound quality you have with BT Rush can't be explained in words, but it needs to be tested personally by the most experienced motorcyclists:
More defined bass, thanks to the adoption of a new custom speaker, driven by power and processing

A greater understanding of speech: 50% more intelligibility in noisy conditions

Professional sound, obtained through the use of a Digital Sound Processor (DSP), optimized for a perfect extension in low frequency and general linearity of the audio signal

40mm round speakers with PEEK membrane designed to support maximum clarity and definition of sound

Earcups that improve sound performance and low-frequency perception thanks to the memory foam heart and the Protein Leather lining

'Digital Noise Killer' and 'Noise Gate' functions reduce background noise by up to 80%




GROUP COMMUNICATION AND MESH TECHNOLOGY

BT Rush is equipped with the innovative Midland Mesh Conference (MMC), a new chainless communication technology designed by Midland.

The main advantage for bikers is the free communication, entering and exiting the conversation whenever desired, in automatic and simultaneous connection with a group of up to 10 people/motorcycle. To achieve this result, the BT Rush offers conversation in Full-Duplex made with a MESH technology developed at home.
Delivery Information:
All online orders are processed once the full payment is processed and confirmed.
All online orders are shipped using Fastway Couriers or Pony Express throughout Ireland. Orders processed before 1:00pm leave the same day for next day delivery. Order processed after 1.00pm will leave the following day. Dispatch is only available Tuesday through Friday. During the month of December we cannot guarantee delivery times quoted due to high volumes of orders being processed by our couriers.
Same day delivery applies to Dublin only. Orders must be received by 3:00pm and item must be in stock. Same day delivery is only available Tuesday through Saturday. During the month of December we cannot guarantee delivery times quoted due to high volumes of orders being processed by our couriers.
All orders where the billing address differs to the delivery address may take longer due to extra security checks. This is designed to protect our customers from fraud.
All prices on our website are quoted inclusive of VAT. A VAT breakdown will be shown upon checkout.
We are prohibited from shipping Aerosols outside of Ireland.
Upon checkout, you will have the option of having your order collected in store. A full card payment will be required online prior to collecting your goods in store. "Web Only" priced items cannot be collected in-store.
Shipping prices may vary depending on the products in your shopping cart at time of checkout. We do our best to offer competitive shipping rates. Below is a general breakdown of our shipping costs:
Cart total under €100*
Cart total over €100
Shipping to Europe
€30 for total cart weight upto 3KG
€50 for total cart weight between 3KG & 7KG
Shipping to the Rest of the world
*These prices are for shopping cart totals of 3kg or less. Orders over 3kg are priced accordingly based on the overall shopping cart weight. This does not include same day shipping to Dublin.
Returns Information:
Any products which were purchased via our online stores must be in their original packaging and original condition. Proof of purchase is also required and must be within 14 days of date of receipt. Any returns after 14 days may be subject to 15% restocking charge.
Any products purchased which qualified for Free Shipping and are returned under the 14 day cooling off period will be subject to a postage fee of €10 for Ireland & Northern Ireland or €20 for the United Kingdom. This fee will be deducted from your refund.
To return your item free of charge you will first need to obtain an RMA number. Once you receive an RMA number, you may use An Posts Return My Shopping service to return your purchase. All items which are end of line or special ordered are non-returnable or refundable unless they are damaged or defective on arrival. If your order is damaged or defective on arrival, please inform a member of our staff straight away by phoning 01-4566222. This policy does not affect the statutory rights afforded to consumers.

When it comes to purchasing a motorbike, securing the right financing can sometimes be a challenging task. At Bikeworld however, we not only provide you with the bike you've always dreamed of owning but we can also recommend a reputable financier who provides a fantastic service and has assisted many of our clients with the funding when they need it.
Humm is a retail instalment payment plan facility, an easy alternative to paying with cash or credit card for your motorcycle, clothing & accessories. Whether it's a new motorcycle, helmet, jacket or accessories Humm is there to make finance simple!
It's all about you – you're in total control. You select the goods; You select the amount; You have full access to your Humm account via your very own self-serve portal. You can even pay out your purchase early without any additional fees or charges. Like we said, it's all about you!
Humm like to know their customers so to apply, you complete a simple, quick and easy online application form on your mobile phone or mobile device. Apply from home, at the office or in-store – it's your choice.
There's an application fee of €35 when signing the contract and a monthly fee of €3.50 to run your account. These fees are included in your credit and payment schedules; itemised on your payment schedule so you know exactly how much you are paying. Providing you stick to your payment schedule, you know exactly how many payments you need to make and the total amount payable throughout your Humm payment term.
Special Interest Rates apply depending on what you want to purchase and may vary by retailer so best to check in store for the best Humm rate.
Humm likes to keep in touch so will send you SMS messages and emails throughout your application and time with us. Having a mobile phone number and email address is required to enjoy the benefits of Humm.
To apply for Humm, all you need is a valid email address, your mobile phone number and meet the following minimum criteria:
Be at least 18 years of age
Be an Irish citizen or permanent resident of Ireland
Earn a minimum taxable income of €21,000 per year
Have a current credit/debit card and a Photo ID
Have a good credit history
Minimum order value of €80
During your Humm assessment, additional documents such as a recent bank statement, utility bill or payslip may be requested to support your application. Once we have all we need, you'll receive a credit decision within minutes! It's that simple!
Finance is available, 0% deposit needed, 6.99% Interest Rate over 2 or 3 years. For further information, please contact a member of our sales department or apply below. Terms & Conditions apply.
Midland BT Rush Single